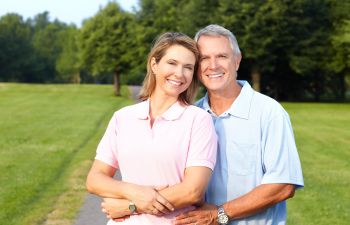 Teeth that are misaligned, stained, broken or chipped, uneven, or have gaps between them can often detract from a person's overall appearance. The smile brings a person's face together, often being the focus of attention when speaking, laughing, or communicating in general. Dental veneers are an advanced cosmetic dental procedure that can drastically improve the appearance of a person's smile. Porcelain veneers are customized thin shells that are bonded to the front surface of natural teeth to completely change their appearance. At Muccioli Dental, we are proud to provide the highest quality in this advanced cosmetic dental solution to our patients. Dr. Randy Muccioli has received an additional three years of training in porcelain veneers so that he can provide patients with the most qualified solution to an unattractive smile.
One of the most amazing benefits of porcelain veneers, aside from dramatic improved appearance, is that they can recreate that natural look of teeth while also providing increased strength. Porcelain veneers are customized for every patient according to the size, shape, and color of their teeth and how they fit in the mouth. To apply veneers, a small amount of the tooth enamel must be removed to create room for the porcelain veneers to fit and most accurately restore the function and appearance of the smile. Porcelain veneers are a very successful option for many people who have teeth with poor color, shape, and/or contours. Minor bite problems and gaps between the teeth can also be corrected as though they never existed.
If you are interested in learning whether or not porcelain veneers are the best option for improving your smile, contact Muccioli Dental today. You can trust your smile to our talented dentist and caring staff professionals. We understand that how you feel about your smile affects how you feel about yourself, and we want to make sure that your smile radiates confidence and beauty. We look forward to helping you achieve your best smile!
Posted on behalf of Dr. Randy Muccioli, Muccioli Dental Circle Us on Google+
Muccioli Dental - Johns Creek Dentist
6300 Hospital Pkwy, Suite 275
Johns Creek, Georgia 30097
Phone: (678) 389-9955