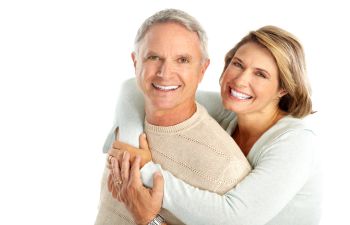 There is no doubt that a mouth of missing teeth can make you look much older than you really are. But did you know that even after teeth are replaced, certain patients can still suffer from a hollowed and aged appearance in their lower face. These are patients that did not choose dental implants for their teeth replacement and have consequently experienced unavoidable bone loss in their jaw due to missing tooth roots.
Why Does Bone Loss Occur?
Your teeth are anchored into your jaw bone with tooth roots. Just like other bones in your body, the jaw bone needs stimulation to retain its density and form. This is done by the tooth roots when you bite down or chew. Unfortunately, when permanent teeth are lost, the tooth and the tooth root are absent and there is no longer any bone stimulation for your jaw. Over time, the jaw bone will shrink or resorb into the body and cause the lower face to sink in and change shape. This is known as premature facial aging.
Why Dentures Don't Prevent Bone Loss
By choosing traditional dentures to replace a full arch of teeth, you are effectively restoring your teeth but neglecting to replace the tooth roots. Removable dentures rest along your gum line and are kept in place with adhesive creams. This means that your jaw bone still doesn't get the stimulation it needs to keep its shape.
The Dental Implant Solution
The good news is that tooth loss doesn't automatically have to mean bone loss and premature facial aging. Modern restorative dentistry offers dental implants as the only solution to prevent bone loss after missing teeth. Dental implants rely on a titanium screw that is surgically inserted into your jaw bone to act like an artificial tooth root. In this way, your prosthetic teeth not only gain superior stability, but your jaw can receive the stimulation it needs to stay healthy.
Dental implants can be used to support a full arch of missing teeth. At Muccioli Dental, we proudly offer implant supported dentures. Patients can regain the smile they deserve after tooth loss while also avoiding the drawbacks of traditional dentures, such as slipping, messy adhesive creams and premature facial aging due to bone loss. In addition, our Johns Creek office is equipped with an on-site dental to foster a more accurate and streamlined process for our patients.
Call Muccioli Dental today to learn more about implant supported dentures in Johns Creek.
Posted on behalf of Dr. Randy Muccioli, Muccioli Dental
Muccioli Dental - Johns Creek Dentist
6300 Hospital Pkwy, Suite 275
Johns Creek, Georgia 30097
Phone: (678) 389-9955