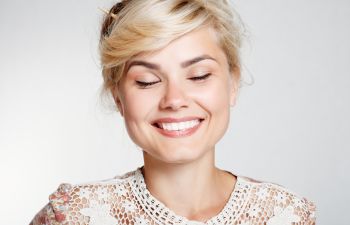 Millions of Americans have tried whitening their teeth at home using strips, whitening tooth paste, and even at-home kits. While some people are able to achieve whiter results, for those who are looking to dramatically whiten their smiles a professional teeth whitening procedure can only be done at the dentist's office. At Muccioli Dental, we are proud to offer residents of Johns Creek, Cumming, Duluth, Alpharetta, and the surrounding areas the most comprehensive dental care – including professional teeth whitening.
Many people these days want that "Hollywood Smile." They want a smile that lights up photographs and turns heads, yet they have not been able to achieve the results that they desire at home. A professional teeth whitening at the dentist's office can provide the most dramatic results because dentists are able to utilize the most advanced teeth whitening methods that are highly effective and safe. Teeth whitening is the most popular cosmetic dental procedure in the United States because of how quickly and noticeably it can improve the appearance of a person's smile. Throughout the aging process everyone's teeth begin to darken and lose their "luster." This natural process combined with drinking coffee, tea, wine, and/or using tobacco products is only further compounded and causes more discoloration and staining of the teeth. In order to lighten or remove these stains a professional teeth whitening procedure must be done at a dentist's office.
At Muccioli Dental, Drs. Lydia and Randy Muccioli have extensive training and experience under their belts. Both doctors have served as dentists in the U.S. Military who have provided dental services to General Officers and the White House. We are proud to offer the same level of care to our patients, and look forward to serving you here in Johns Creek. Call us today to schedule an appointment for professional teeth whitening, and be on your way to a brighter, more beautiful smile.
Posted on behalf of Dr. Randy Muccioli, Muccioli Dental
Muccioli Dental - Johns Creek Dentist
6300 Hospital Pkwy, Suite 275
Johns Creek, Georgia 30097
Phone: (678) 389-9955