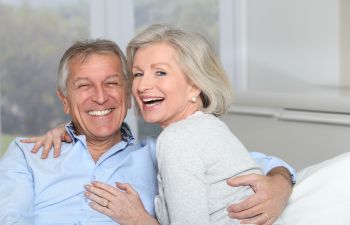 A denture reline involves adjusting a removable denture so that it fits better and more comfortably on the gums. For traditional denture wearers (those not secured by dental implants), a denture reline is almost always required at some point in time. In fact, it is recommended that you have your denture relined every two years. There are many factors that can cause your dentures to not fit as well as it used to, some of which are out of your control. An improper fit can occur when the denture itself suffers wear and tear or when the gum line changes shape or condition.
Denture relines involve shaving the underside of the denture and replacing it with new plastic in order to realign the denture properly with the gums. There are three main types of dental relines, including a hard reline, a soft reline and a temporary reline. A dental reline not only helps you regain a more comfortable fit for your denture, but it also protects the health of the dental ridge and extends the life of the denture itself.
Here are some common reasons that patients need a denture reline:
Gum sores or infection caused by rubbing denture
Regular wear and tear on dentures
Overbuild denture
Resorbed gum ridge (due to bone loss)
Significant weight loss or weight gain
Teeth grinding habit
The good news is that ill-fitting dentures can typically be quickly resolved with a denture reline. At Muccioli Dental, we have an in-office laboratory that helps us provide hard and soft denture relines as well as a full menu of denture repairs in the timely manner you deserve. If you want to avoid denture relines all together or if you continue to struggle with ill-fitting or loose dentures, we invite you to consider implant-supported dentures.
Schedule your consultation now to learn more!
Posted on behalf of Dr. Randy Muccioli, Muccioli Dental
Muccioli Dental - Johns Creek Dentist
6300 Hospital Pkwy, Suite 275
Johns Creek, Georgia 30097
Phone: (678) 389-9955