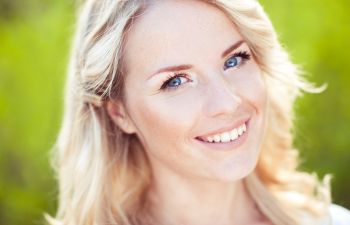 At Muccioli Dental, we serve patients from Johns Creek and the surrounding areas as a comprehensive dental practice. We proudly offer painless root canal procedures to those with damaged or infected teeth. As a family owned and operated dental practice we offer our patients a unique atmosphere of warmth, care, and dedication. Drs. Lydia and Randy Muccioli are both highly trained and have extensive experience performing root canals as well as other advanced and comprehensive dental procedures.
A root canal is performed when a tooth has received damage or is infected. It is crucial that a tooth be treated promptly to reduce the risk of the infection spreading throughout the mouth or into the blood stream. During a root canal procedure the pulp will be removed from the center of the tooth. This removal prevents the infection from remaining in the crevices of the tooth where it can fester and develop again. After the pulp is removed and the tooth is treated for damage or infection, it will be filled and sealed to prevent further decay. The health of the entire mouth can be affected from one single infected tooth. Failure to undergo necessary treatment in a reasonable time frame will lead to more painful and serious dental problems.
At Muccioli Dental, we make sure that your comfort is well taken care of during any dental procedure. While root canals used to have the reputation for being painful, that is not the case today. We work with state of the art dental technology and provide patients with excellent, personalized care. If you are in need of a root canal procedure, or if you are looking for a family dental practice to trust with your dental health, call Muccioli Dental today to schedule an appointment.
Posted on behalf of Dr. Randy Muccioli, Muccioli Dental Circle Us on Google+
Muccioli Dental - Johns Creek Dentist
6300 Hospital Pkwy, Suite 275
Johns Creek, Georgia 30097
Phone: (678) 389-9955