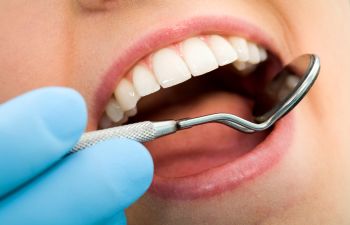 Gum disease is one of the most common, yet most serious, oral health conditions. In its early stages, periodontal disease can be reversed with better oral hygiene habits. However, if the infection and inflammation in the gums is not improving, a scaling and root planing is often recommended as the next line of treatment. Scaling and root planing is also referred to as a "deep cleaning."
During a traditional dental cleaning, plaque is removed from the tooth's surface and along the gum line. However, scaling and root planing is a much deeper cleaning that aims to eliminate plaque and bacteria from below the gum line and at the root surface of each tooth. This can effectively target the deep pockets of gum tissue that form due to progressive gum disease. These pockets harbor additional bacteria, which can advance the infection and lead to the destruction of underlying bone. Untreated gum disease causes tooth loss as well as several threats to one's overall health.
What Happens During Scaling and Root Planing?
The gums are first numbed with a local anesthetic to prevent discomfort. Some patients also elect sedation dentistry to help them relax. Scaling and root planing involves both handheld and ultrasonic scalers that are used to remove plaque from the base of the tooth and below the gum line. The pockets of gum tissues are also irrigated and sterilized. Finally, a root planing device is used to smooth out the surface of the tooth roots. This encourages the gums to reattach to the teeth, which prevents food and bacteria from getting trapped below the gum line. In many cases, an antibiotic is also applied to the gums to kill any lingering infection.
After Your Treatment
While there is no downtime associated with scaling and root planing, you may experience mild tenderness and sensitivity for the first 24-48 hours. It is important to follow your dentist's instructions and use any special mouthwash that was recommended. Keeping the treated site clean is critical to the healing of your gums. You can expect to follow up with your dentist to measure the pocket depths around your teeth and determine whether additional gum disease therapy is needed.
If you notice signs of gum disease, such as red, puffy or bleeding gums, it is important that you seek treatment right away. Periodontal disease is much easier to treat at its earliest stages. For more information on what you can expect from scaling and root planing at Muccioli Dental, please call our Johns Creek office today!
Posted on behalf of Dr. Randy Muccioli, Muccioli Dental
Muccioli Dental - Johns Creek Dentist
6300 Hospital Pkwy, Suite 275
Johns Creek, Georgia 30097
Phone: (678) 389-9955