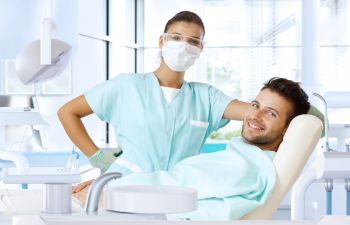 Not everyone feels comfortable in the dental chair. If anxiety or fear is keeping you from receiving the dental care you need, sedation dentistry should be considered. Whether you are simply nervous about a long dental procedure or feel paralyzed with fear at the thought of getting your teeth cleaned, it is important to know that your dentist is equipped to eliminate your apprehension and create a comfortable, relaxing experience for you. Along with soothing office amenities and a friendly staff, sedation dentistry is a valued tool in helping patients feel at ease during dental visits.
Reasons Why You Can't Relax
The dental office is a common place for people to feel uneasy. While modern dental offices go above and beyond to create an environment that feels like home, there are still many reasons why patients feel anxious about dental care. Sedation dentistry is an excellent option for those who suffer from the following:
Fear of dental needles
Fear of oral pain
Aversion to sights, smells or sounds of dental office (drills, latex, etc.)
Severe gag reflex
Inability to sit still
Lengthy dental procedure
Bad/traumatic dental experience as a child
Your Options in Sedation Dentistry
Mild to moderate sedation allows patients to remain awake during their procedure, yet fully relaxed and unbothered by the treatment being performed. At Muccioli Dental, our patients have the opportunity to choose between oral sedation, using a sedative pill that is taken prior to your appointment, or nitrous oxide that is gently inhaled through a nosepiece while you are in the dental chair.
Nitrous oxide, commonly called "laughing gas," is one of the safest and most preferred solutions in conscious sedation dentistry. Not only can the level of sedation be adjusted during your procedure, but the effects of the gas wear off within minutes after removing the mask. This allows patients to drive themselves home without feeling any lingering side effects. When choosing this level of sedation dentistry, most patients can still communicate with others during their procedure, but they have little recollection of the actual procedure once it is complete. Nitrous oxide can be used during any type of dental treatment, depending on the level of the patient's anxiety. It is even safe for kids!
Want to learn more about sedation dentistry or make sure it is available at your next dental visit? Call Muccioli Dental in Johns Creek today. We want to change the way you feel about dental care!
Posted on behalf of Dr. Randy Muccioli, Muccioli Dental
Muccioli Dental - Johns Creek Dentist
6300 Hospital Pkwy, Suite 275
Johns Creek, Georgia 30097
Phone: (678) 389-9955