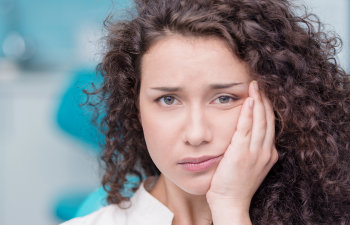 We all have habits. Unfortunately, the habits we perform while we sleep aren't ones we like to take responsibility for. Unlike mild snoring or sleep talking, nighttime teeth grinding is an example of a subconscious habit that may need your attention. Over time, bruxism can wreak havoc on your oral health.
How do you know you if you are grinding your teeth in bed? Here are some of the most common clues:
Your Bed Partner is Complaining
While your teeth grinding habit may not disrupt your own sleep, the clicking and chattering of your pearly whites can certainly wake your partner during the night.
Unexplained Tooth Damage
Are your teeth worn down or chipping without a traceable cause? You could be creating dental damage while you sleep. Teeth grinding (or clenching) puts excessive pressure and force on the enamel of your teeth, which can cause teeth to wear down prematurely.
TMJ Symptoms
Your jaw joint also reaps the backlash of bruxism. Teeth grinding puts repeated stress on your TMJ and strain on the surrounding muscles, which can lead to disruptive symptoms ranging from a stiff and sore jaw to tension headaches and neck pain.
Changes in Facial Appearance
Yes, chronic nighttime teeth grinding can alter the shape of your lower face if it is not treated. This typically presents itself as a square jaw and bulky lower face due to the growth of jaw muscles on either side.
If you suspect you are grinding your teeth during the night, call Muccioli Dental. Our Johns Creek dental team offers nighttime mouthguards to protect your smile while you sleep.
Posted on behalf of Dr. Randy Muccioli, Muccioli Dental
Muccioli Dental - Johns Creek Dentist
6300 Hospital Pkwy, Suite 275
Johns Creek, Georgia 30097
Phone: (678) 389-9955