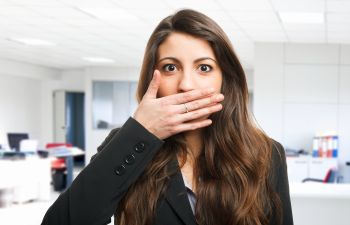 When it comes to habits, few are as destructive to the body as tobacco use. Tobacco is a highly addictive drug that, when consumed through smoking or chewing, can cause serious havoc. With its addictive qualities, it makes it very difficult to give up this habit despite the harm that it causes. Numerous health and personal issues are directly related to tobacco use.
Bad breath – Because bad breath is not necessarily a health concern on its own, it is often overlooked as a negative effect of tobacco use. However, as tobacco is a strong-smelling agent on its own, when mixed with oral bacteria tobacco causes very foul breath. Bad breath can cause serious negative impacts on your personal and professional life.
Tooth discoloration – A "smoker's smile" can usually be identified right off the bat. Tobacco has natural staining elements, and with continued use tobacco can cause permanent discoloration of the teeth that even professional teeth whitening cannot lift.
Breathing issues – With every drag on a cigarette or cigar, smoking allows dangerous chemicals to enter the lungs and airways. These chemicals cause permanent damage that can lead to serious breathing issues such as COPD and Emphysema.
Lung cancer – As with the permanent damage that smoking causes to the lungs, when they lungs are severely damaged they are left susceptible to contracting disease. Lung cancer is a prominent condition among smokers with a high death rate.
Periodontal disease – Periodontal disease causes permanent damage to the gums due to severe infection. The gums are the tissues that surround and support the teeth. When the gums become raw and irritated from tobacco usage, they will become incredibly vulnerable to infection. Periodontal disease is the leading cause of tooth loss in tobacco users, and it requires extensive and pricy treatment to overcome the damage done.
Oral cancer – When a part of the body has become significantly damaged it loses its ability to fight off disease. The damage that tobacco causes to the mouth leaves it without the immunity to fight off oral cancer – a prominent disease among tobacco users.
At Muccioli Dental we went to help you overcome the damage that oral cancer has caused to your oral health. Please contact us today.
Posted on behalf of Dr. Randy Muccioli, Muccioli Dental
Muccioli Dental - Johns Creek Dentist
6300 Hospital Pkwy, Suite 275
Johns Creek, Georgia 30097
Phone: (678) 389-9955