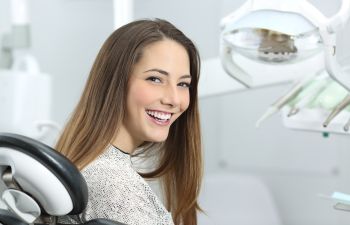 Maintaining the health of your smile is vitally important. Healthy teeth and gums keep your smile looking great as well as help you avoid costly dental procedures. A clean, healthy mouth is also beneficial for your body, as many serious health conditions are linked to gum disease and other oral health problems.
Why You Shouldn't Skip Professional Dental Cleanings
If you are brushing and flossing twice a day and avoiding a high-sugared diet, you are well on your way to a healthy mouth. However, patients need to go one step further in their preventative dental care. Visiting the dentist every six months for a professional dental cleaning is not optional. In fact, it is mandatory if you want to retain a brilliant, functional and confident smile.
After you eat and drink, plaque inevitably starts to accumulate. While brushing and flossing can remove most of the plaque before it hardens, a professional dental cleaning is the only way to completely eradicate the stubborn tartar (hardened plaque) that brushing can't remove. If left alone, hardened plaque along your gum line and around your teeth can lead to gum disease, cavities and even tooth loss.
At Muccioli Dental, you can trust that we use the most modern dental cleaning methods, which includes ultrasonic technology. While you may be familiar with past handheld tools that involved scraping your teeth with a metal probe, the ultrasonic scalers are much more effective and significantly more comfortable.
What is an Ultrasonic Dental Cleaning?
This method distributes ultrasonic vibrations to blast away dental tartar (or calculus) from your teeth. The ultrasonic scaler creates sound waves that effectively break apart the calculus deposits. This tool also provides a gentle stream of water at its tip so that the debris can be easily washed away and the device doesn't overheat. Ultrasonic cleaning is a remarkable tool to prevent and treat periodontal disease, as it can successfully clean within the gum line and between the teeth. As a bonus, ultrasonic cleaning is faster than traditional methods and also removes tooth stains.
Your Modern Dentist in Johns Creek
Modern dental technology is known for making procedures more comfortable, more efficient and more effective – and that is exactly what an ultrasonic dental cleaning does. Schedule your routine dental cleaning today and experience a whole new level of comfort and rejuvenation at Muccioli Dental in Johns Creek.
Posted on behalf of Dr. Randy Muccioli, Muccioli Dental
Muccioli Dental - Johns Creek Dentist
6300 Hospital Pkwy, Suite 275
Johns Creek, Georgia 30097
Phone: (678) 389-9955