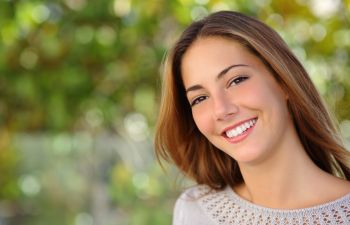 A person's smile says a great deal about him or her. A bright smile gives off the impression of confidence and beauty, while a dull or stained smile is often perceived as unattractive and unapproachable. Teeth whitening has been around for decades, and it continues to remain the most popular cosmetic dental procedure of all time. Drs. Lydia and Randy Muccioli lead the staff at Muccioli Dental, and they are proud to offer patients teeth whitening in order to make a patient's smile more beautiful. Located in Johns Creek, Muccioli Dental is a comprehensive family dental practice that is committed to providing patients with the safest and most effective dental treatments available.
At-home teeth whitening products and kits have been on the market for consumers to purchase for over a decade, yet they are still not able to provide the level of whitening that can be achieved through a professional teeth whitening procedure. Advantages of a professional teeth whitening procedure include:
Faster results. With at home whitening products it can take two to four weeks to begin noticing that the teeth are whiter.
Eliminates sensitivity. Tooth sensitivity is the number one complaint of at home teeth whitening treatments. By monitoring the application and the entire treatment, dentists are able to virtually eliminate sensitivity to the teeth.
Effective on stains. While at home products can whiten the teeth a couple of shades, they are generally ineffective at bleaching stains on the teeth. Only a professional whitening treatment can lift deep, dark stains.
Longer lasting results. Because teeth are able to be whitened up to ten shades with professional teeth whitening treatments, the results last much longer than at home products.
If you are interested in having your teeth professionally whitened, call Muccioli Dental in Johns Creek to schedule an appointment. We are committed to helping you achieve a healthier and more beautiful smile.
Posted on behalf of Dr. Randy Muccioli, Muccioli Dental
Muccioli Dental - Johns Creek Dentist
6300 Hospital Pkwy, Suite 275
Johns Creek, Georgia 30097
Phone: (678) 389-9955