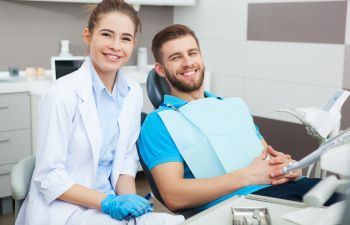 Whether you are raising a family or climbing the corporate ladder (or both), life can get quickly get hectic. If there is an option to reduce your time, effort and money without sacrificing quality, it's appealing. When it comes to dental care for you and your family, that means choosing a dentist that offers "one stop dental care".
One stop dental care means exactly what you think it does – a complete realm of dental services for all ages under one roof. Muccioli Dental is proud to serve the residents of Marietta with such comprehensive dental care, which includes the following:
Preventative dentistry (cleanings, x-rays)
General dentistry (fillings, root canals, extractions, bonding)
Cosmetic dentistry (veneers, teeth whitening)
Orthodontics (Invisalign)
Restorative dentistry (implants and dentures)
Sleep dentistry
The Importance of an All-Inclusive Approach to Your Smile
A confident smile is one that is attractive and healthy. That's why we aim to provide all the services you'd need for both. Beyond your routine dental cleaning appointments, there may be times in which your teeth need repair (cavity or dental crown) as well as times in which you want to enhance their appearance (veneers or orthodontics).
At Muccoli Dental, we recognize that there are services that go even further. We offer advanced services such as sleep apnea treatments, teeth replacement and TMJ therapy at the same office that you get your teeth cleaned. We even have an in-house prosthodontist to ensure you never have to be referred out to a specialist.
Dental Care Should Be Hassle-Free
Going to multiple dental offices for each member of your family can be a chore. For some, it may not even be feasible. At Muccioli Dental, we keep families together in one place to make it easier.
While convenience is a highlight of "one stop dental care," we never sacrifice our superior level of patient-centered care. Make life easier and get the convenient, one-stop approach to dentistry your family needs.
Posted on behalf of Dr. Randy Muccioli, Muccioli Dental
Muccioli Dental - Johns Creek Dentist
6300 Hospital Pkwy, Suite 275
Johns Creek, Georgia 30097
Phone: (678) 389-9955