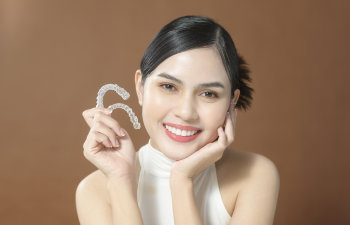 In today's fast-paced world, convenience plays a significant role in our decision-making process. When it comes to achieving a straighter smile, traditional metal braces may not be the most appealing option for many adults and teenagers. Thankfully, modern orthodontics has blessed us with an innovative solution – Invisalign.
At Muccioli Dental in Johns Creek, we believe in providing our patients with the most convenient and effective orthodontic treatments available. In this blog post, we'll explore the remarkable convenience of Invisalign and how it can transform your smile discreetly and comfortably.
A Clear Difference
One of the primary reasons why Invisalign has gained immense popularity is its virtually invisible appearance. The clear aligners are made from a smooth, transparent plastic material, making them significantly less noticeable than traditional metal braces. This means you can confidently go about your daily activities, whether it's attending important meetings, social events, or simply taking a selfie, without worrying about drawing attention to your orthodontic treatment.
Removable Freedom
Unlike traditional braces, Invisalign aligners are removable. This feature offers unparalleled convenience and flexibility in your daily routine. You can easily remove the aligners when eating, allowing you to enjoy your favorite foods without any restrictions. You can also remove them for special occasions, giving you the freedom to showcase your natural smile when needed. However, it's essential to wear the aligners for the recommended 20-22 hours a day to achieve optimal results within the projected treatment timeline.
Comfort Redefined
Invisalign aligners are custom-made to fit your teeth perfectly, ensuring a snug and comfortable fit. The aligners are smooth, without any wires or brackets that can cause irritation or discomfort in the mouth. Say goodbye to the occasional mouth sores and discomfort associated with metal braces. Invisalign aligners gently shift your teeth into their desired positions without causing unnecessary pain or inconvenience.
Time-Saving Convenience
Invisalign treatment offers a time-saving advantage compared to traditional braces. While the exact duration of treatment varies from case to case, Invisalign often provides faster results. The treatment involves a series of aligners that gradually move your teeth into alignment.
Typically, patients visit our Johns Creek office every 6-8 weeks for a quick progress check and to receive their new set of aligners. These appointments are shorter and less frequent compared to the adjustments required for traditional braces, saving you valuable time in your busy schedule.
Digital Precision
The convenience of Invisalign extends beyond its physical aspects. The treatment process utilizes advanced digital technology to map out the movement of your teeth from start to finish. With the help of 3D imaging and computer simulations, your dentist can provide you with a clear visualization of the expected final results. This technology-driven approach ensures accurate treatment planning and helps you understand the journey to your dream smile.
Schedule Your Invisalign Consult in Johns Creek
Invisalign has revolutionized the world of orthodontics, offering patients a convenient and discreet alternative to traditional braces. With Muccioli Dental, you can embrace the convenience of Invisalign and experience the transformative power of a beautifully aligned smile. Our experienced team is dedicated to providing personalized orthodontic care that meets your unique needs and lifestyle. Don't let crooked teeth hold you back – choose the convenient path to a confident smile with Invisalign at Muccioli Dental. Schedule your consultation today and embark on your journey to a more confident, convenient, and beautiful smile.
Posted on behalf of Dr. Randy Muccioli, Muccioli Dental
Muccioli Dental - Johns Creek Dentist
6300 Hospital Pkwy, Suite 275
Johns Creek, Georgia 30097
Phone: (678) 389-9955