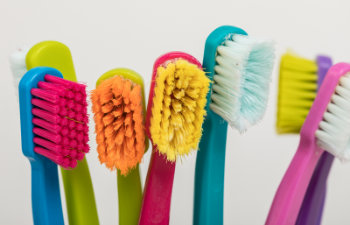 We all own one, and we should all be using it every single day. How are you paying attention to your toothbrush? At Muccioli Dental, we consider your toothbrush as one of your most valued assets that you own. After all, it is what allows you to keep your smile clean and healthy in between your dental visits with us.
To ensure you are well-acquainted with your toothbrush, we've compiled some frequently asked questions about this essential oral hygiene tool.
What Type of Toothbrush Should You Buy?
When selecting a toothbrush, it's important to choose one with soft or extra-soft bristles to prevent damage to your teeth and gums. Look for a toothbrush with a comfortable handle that allows you to grip it firmly and reach all areas of your mouth easily. Some people prefer electric toothbrushes, which can be more effective at removing plaque than manual toothbrushes.
How Often Should You Be Using Your Toothbrush?
A person should brush their teeth at least twice a day, ideally in the morning and before bed. Each brushing session should last for at least two minutes.
What Does Your Toothbrush Accomplish?
Brushing your teeth helps to remove food debris and stains as well as plaque, a sticky film of bacteria that can build up on your teeth and cause tooth decay and gum disease.
When Should You Replace Your Toothbrush?
You should replace your toothbrush every three to four months, or sooner if the bristles become frayed or if you've been sick. Bacteria can accumulate on your toothbrush over time, so it's a good idea to replace it regularly to ensure that you're brushing with a clean brush.
How Should You Store Your Toothbrush?
When storing your toothbrush, keep it in an upright position in a well-ventilated area (at least six feet away from the toilet). Avoid storing it in a closed container, as this can create a moist environment that promotes the growth of bacteria. After brushing your teeth, rinse your toothbrush thoroughly with water and allow it to air-dry.
Can My Toothbrush Get My Teeth as Clean as a Professional Dental Cleaning?
While you've got the job 363 days of the year, your teeth should be cleaned by your dentist at least twice per calendar year, or every six months. A professional dental cleaning, also known as prophylaxis, is a more thorough cleaning of your teeth and gums than what you can achieve at home with your toothbrush. During a professional cleaning, a dental hygienist or dentist will use specialized tools to remove plaque and tartar from your teeth, particularly in hard-to-reach areas that are difficult to clean with a toothbrush. While regular brushing and flossing at home are important for maintaining good oral health, they may not be enough to remove all the plaque and tartar that can accumulate on your teeth over time.
If it has been six months since you let a dentist clean your teeth, please call Muccioli Dental today. We can also give you tips on how to keep your teeth healthy and strong throughout the year.
Posted on behalf of Dr. Randy Muccioli, Muccioli Dental
Muccioli Dental - Johns Creek Dentist
6300 Hospital Pkwy, Suite 275
Johns Creek, Georgia 30097
Phone: (678) 389-9955