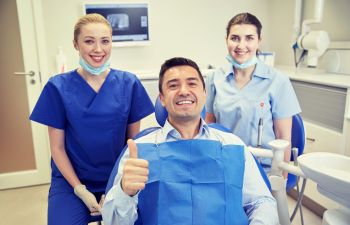 Unless you are suffering from a dental problem, most of your visits to a dentist will involve a routine cleaning. These are professional cleanings that are far more than what you can accomplish at home. In fact, dental cleanings are so important that the ADA recommends you get two per year, and most dental insurance companies cover both visits. As far as preventative dental health goes, a dental cleaning is non-negotiable at every stage of life.
What to Expect
While every family dentist may do things in a different order or with various techniques, most dental cleaning visits include the following steps:
Oral Health Exam
Your oral health involves several components beyond your teeth. Your dentist will use a visual evaluation and x-rays to check for signs of trouble. This can range from loose teeth and chips to cavities, bone loss and gum pockets.
Plaque and Tartar Removal
We all get plaque on our teeth. However, once plaque hardens into tartar, it is nearly impossible to clean with your toothbrush and floss. To avoid decay and gum disease, your hygienist or dentist will use special tools to remove tartar and plaque build-up along your teeth and gums.
Teeth Cleaning and Polishing
You may be surprised at how smooth and bright your teeth look after a professional cleaning. This is a non-invasive process that is carefully done by hand to ensure each tooth is polished to perfection.
Gum Disease Evaluation
Periodontal disease is the leading cause of tooth loss in the United States. Fortunately, if it is caught at its earliest stages, it is easily reversed. That's why your routine dental visit will also include a close examination of your gums. You may hear your dentist calling out specific measurements of your gum height that will be checked at each visit. If signs of gum disease are present (swelling, bleeding or redness), a deep cleaning or scaling and root planing treatment may be suggested.
Oral Cancer Screening
Most patients don't even realize they are getting screened for oral cancer when it happens. This is a very brief evaluation that can save your life!
Schedule Your Dental Cleaning in Johns Creek
Here are some top reasons to schedule your routine dental cleaning this year:
Painless, non-invasive and quick
Helps prevent the need for more invasive and costly procedures down the road
Covered by most dental insurance plans
Polishes your smile
Removes tartar that your toothbrush can't handle
Protects your whole-body health
Has it been six months or more since you've had your teeth cleaned by a dentist? Call Muccioli Dental. With our relaxing atmosphere and skilled dental team, you'll be glad you treated your smile the way it deserves.
Posted on behalf of Dr. Randy Muccioli, Muccioli Dental
Muccioli Dental - Johns Creek Dentist
6300 Hospital Pkwy, Suite 275
Johns Creek, Georgia 30097
Phone: (678) 389-9955