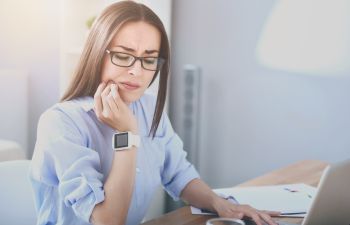 A dead tooth is a tooth that is no longer vital inside the mouth. As with every living tissue within the human body, each tooth must be connected to a life supply in order to remain alive. The teeth are each connected to numerous blood vessels located within the inner most layer of the tooth that supply a constant blood supply in order to keep it vital. The teeth are made up of three different layers: the enamel, the dentin, and the pulp. The enamel is the white part of the tooth that is visible every time you reveal your smile to someone, it is also the part of the tooth that protects the inner layers. The dentin and the pulp consist of nerve fibers and blood vessels, and these inner layers keep the tooth alive.
A dead tooth is typically caused by one of two main circumstances – dental trauma and bacterial infection. Dental decay begins as a small cavity within a tooth. This small dental issue can grow to become a major concern if it is not treated within a proper timeframe. Cavities are caused by acid producing bacteria that eat their way through the tooth. A cavity is simply a tiny hole in the tooth that has been eaten through by bacteria. When dental fillings are properly administered, the decay is stopped; however, when a cavity is allowed to fester, the damage will move into the inner layers of the tooth. If an infection reaches the pulp of the tooth, the blood vessels are in jeopardy because the infection can destroy the blood vessels. Once blood vessels are destroyed, they will be cut off from their life support and a dead tooth will result. Making sure you receive proper dental treatment when necessary is essential to keeping your teeth healthy.
Dental trauma is most associated with a dead tooth. If the mouth or facial region suffers blunt force trauma of any kind, a tooth can be knocked loose from its socket. When a tooth is knocked loose, or completely knocked out of the mouth, the blood vessels are immediately severed from the tooth. There are times when immediate dental intervention can save a tooth and it will reconnect to the blood vessels, but in most instances a tooth will instantly die from severe trauma.
At Muccioli Dental we are here to provide the most essential and complete dental care to you and your family. If you have any reason to be concerned that you have a dead tooth or that a tooth may be infected, please contact our dental practice right away. We want to help you achieve and maintain optimal oral health for life.
Posted on behalf of Dr. Randy Muccioli, Muccioli Dental
Muccioli Dental - Johns Creek Dentist
6300 Hospital Pkwy, Suite 275
Johns Creek, Georgia 30097
Phone: (678) 389-9955