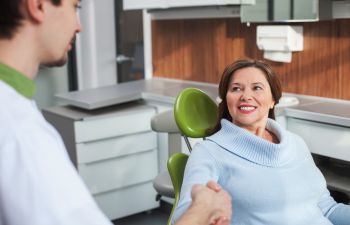 A prosthodontist is a specialist in the field of dentistry. Much like an orthodontist or endodontist, a prosthodontist has received additional training beyond the requirements of a general dentist. Prosthodontists are considered specialists in restorative procedures, such as those that improve imperfect teeth as well as treatments that involve replacing missing teeth. A prosthodontist is prepared to meet every conceivable challenge that a patient may bring in this area of dentistry. Prosthodontists have a high level of expertise in both functional improvement and aesthetic enhancement of the teeth.
How Does a Prosthodontist Differ from a General Dentist?
As previously mentioned, prosthodontists undergo years of additional training through a university or hospital-based program that is accredited by the ADA (American Dental Association). This extensive and specialized education includes advanced-level courses, clinical and laboratory experience, patient care experience and rigorous research. A prosthodontist's training borders other medical disciplines, which often gives them an expansive range of diagnostic insight and diversified approaches to oral health concerns.
Who Can Benefit from a Prosthodontist?
A prosthodontist focuses on providing valued solutions for patients with imperfect teeth or missing teeth, whether due to a birth abnormality, accidental trauma or severe decay. You may benefit from the expertise of a certified prosthodontist if you:
Want to improve the appearance of your smile with cosmetic dentistry services
Need teeth replacement in the form of crowns, bridges or dental implants
Require a full mouth reconstruction
Desire a more customized solution that will accommodate the unique needs of your smile and bite, allowing you to speak and chew comfortably as well as smile confidently
Experienced Prosthodontist at Muccoli Dental
Our practice proudly features an ADA trained and accredited Prosthodontist, Dr. Randy Muccioli. Dr. Muccioli is uniquely qualified to provide advanced cosmetic, esthetic and restorative dental services including crowns and bridges, inlays/onlays, porcelain veneers, removable complete and partial dentures, denture relines and repairs, treatment for traumatic injuries to the mouth, treatment for congenital or birth anomalies, oral cancer reconstruction, TMD treatments, sleep disorder treatments, dental implants, dental implant supported crowns, bridges and complete dentures, and full mouth rehabilitation.
In addition to our on-staff prosthodontist, we also have an on-site dental lab for a truly unique and superior experience in restorative dentistry. If your smile needs rebuilding, contact Johns Creek most trusted Prosthodontist today.
Posted on behalf of Dr. Randy Muccioli, Muccioli Dental
Muccioli Dental - Johns Creek Dentist
6300 Hospital Pkwy, Suite 275
Johns Creek, Georgia 30097
Phone: (678) 389-9955