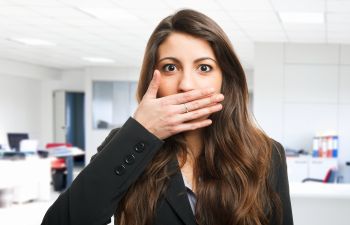 You've invested notable time and money into getting your dentures. Without missing teeth, you can avoid a host of challenges related to your oral health and quality of life. However, while your dentures look beautiful and function comfortably, you still find yourself covering up your smile due to bad breath.
Bad breath (or halitosis) in denture wearers is not uncommon. In fact, it is more likely to occur in those that have prosthetic teeth compared to natural teeth. Since bacteria is the leading cause of bad breath, it makes sense why denture wearers suffer most. Even if you clean your dentures every day, it is easy for bacteria and food debris to get stuck or trapped under your prosthetic teeth without knowing.
If denture breath is sabotaging your restorative dentistry investment, consider these 4 ways to help:
#1 Clean Better. Taking care of your dentures is likely to involve more time and effort than caring for your natural teeth. You need to be giving your dentures a thorough brushing as well as soaking them each night in a special cleaning solution. The more bacteria you can remove from your prosthetic teeth, the less chance for denture breath to present itself.
#2 Don't Neglect Your Gums and Tongue. Forgetting to brush the soft tissues of your mouth after you remove your dentures each night can be a serious mistake. Your gums and tongue can harbor loads of bacteria. If left alone, bacteria feeds and produces foul-smelling sulfur compounds as it breeds.
#3 Stay Hydrated. Dry mouth is a leading cause of halitosis, so it is important to drink plenty of water throughout the day. This also rinses away food debris and bacteria between meals. If you think your prescription is causing your dry mouth, ask your doctor about an alternative medication.
#4 Consider Dental Implants. If you have tried to improve your oral hygiene and still battle denture breath, it may be a good idea to consider dental implants. Implants can be used to secure a full or partial denture in a way that best mimics your natural teeth. Implants are secured into your jawbone, where they can provide a firm and seamless foundation for your denture. This makes them less likely to harbor excess bacteria and trap food particles. Plus, you can care for them and clean your implant dentures just like real teeth.
Ready to Eliminate Denture Breath? Call our experts of Muccioli Dental. We never want bad breath to keep you from showing off your smile!
Posted on behalf of Dr. Randy Muccioli, Muccioli Dental
Muccioli Dental - Johns Creek Dentist
6300 Hospital Pkwy, Suite 275
Johns Creek, Georgia 30097
Phone: (678) 389-9955