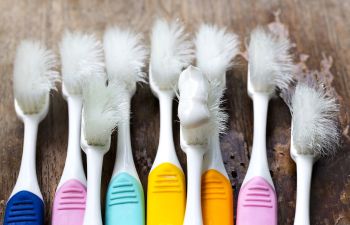 Take a good look at your toothbrush. Can you remember the last time you replaced it? If you cannot remember, chances are that it is time to replace the one you have with a new one. The American Dental Association recommends that your toothbrush be replaced every three months, with six months being the absolute longest length of time that you should ever use one single toothbrush.
Your toothbrush is a tool that was specifically designed to clean your teeth and gums to help ward off cavities from developing inside your mouth. However, if you are using an old, dirty toothbrush, it is not doing the job that you think it is; in fact, it may be causing more harm than good. But your toothbrush looks clean, you say? Well, did you know that one single toothbrush can hold up to 10 million invisible bacteria? How clean does your toothbrush look now?
Toothbrushes are meant to clean the teeth and rid them of damaging bacteria. If you stop to think how that bacteria actually leaves the mouth – through spitting and on your toothbrush – you will get a sense of how important it is to replace your toothbrush on a regular basis. While rinsing your toothbrush after using it will help, it will not eliminate all of the bacteria on your toothbrush. And because bacteria thrive in moist environments, your toothbrush is a breeding ground. Yuck!
It is also very important that you replace your toothbrush after you have had a cold, flu, or strep throat. It is very easy for reinfection to occur by using a toothbrush with germs from the illness that you just got over.
At Muccioli Dental, we want your oral health to be a consistent routine in your life. With regular bi-annual dental cleanings and checkups, we are here to help you maintain proper oral hygiene and care for your teeth, gums, and entire mouth. Replacing your toothbrush on a regular basis is easy when you keep your appointments because we will give you a brand new one at the end of your visit! Call our practice today to schedule an appointment.
Posted on behalf of Dr. Randy Muccioli, Muccioli Dental
Muccioli Dental - Johns Creek Dentist
6300 Hospital Pkwy, Suite 275
Johns Creek, Georgia 30097
Phone: (678) 389-9955