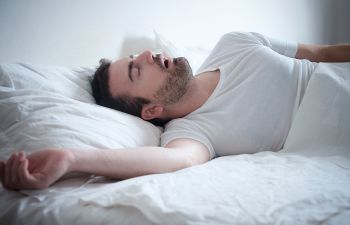 What is Sleep Apnea?
According to Mayo Clinic, sleep apnea is defined as "a potentially serious sleep disorder in which breathing repeatedly stops and starts." Throughout the night, sleep apnea can cause loud snoring and frequent episodes of waking up and gasping for air. Sufferers may experience daytime symptoms ranging from fatigue and poor concentration to headaches, dry mouth and irritability.
Dangers of Untreated Sleep Apnea
The good news is that sleep apnea can be effectively treated and managed, despite its severity. However, neglecting to address sleep apnea episodes can lead to some very worrisome consequences. Your body needs proper rest and oxygen during the night.
Moderate to severe sleep apnea that goes untreated has been linked to the following:
High blood pressure
Cardiovascular complications
Type 2 Diabetes
Metabolic Syndrome
Liver problems
Issues with medications or surgery
How Your Dentist Can Help
At Muccioli Dental, we proudly offer treatment for sleep apnea using proven oral appliance therapy. A special mouthguard can put the jaw in a better position to open the airway during sleep. In turn, this can prevent sleep apnea episodes as well as the loud snoring that often accompanies this condition. Our dental laboratory technicians work closely with our dentists to fabricate custom snoring and sleep apnea appliances that are both effective and comfortable to wear.
Is your sleep apnea condition going untreated or undiagnosed? Are you concerned that your partner's loud snoring is something more serious? Call Muccioli Dental today to schedule a consult.
Posted on behalf of Dr. Randy Muccioli, Muccioli Dental
Muccioli Dental - Johns Creek Dentist
6300 Hospital Pkwy, Suite 275
Johns Creek, Georgia 30097
Phone: (678) 389-9955