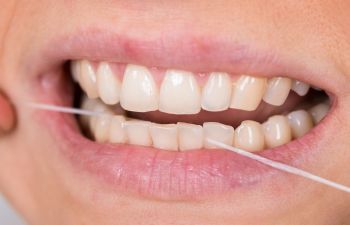 There are three recommended components to a healthy smile: brushing twice a day, flossing daily and seeing your dentist every six months. Which one are you missing? For nearly half of us, flossing is the habit we slack on. In fact, 49% of Americans say they do not floss on a daily basis, and about 18% don't floss at all. However, understanding what flossing accomplishes inside your mouth may help you stay on track with this important task.
Let's break it down to the facts. When you brush your teeth, you are only cleaning two thirds of each tooth. No matter how hard you try, your toothbrush simply can't get in between your teeth like your floss or interdental cleaner can.
What happens to the nearly 40% of the tooth surfaces you are missing? Food debris and bacteria build up on the enamel and gums between each tooth. Over time, plaque hardens into tartar, which can't be removed without a professional cleaning. Once bacteria and hardened plaque set in, you've given gum disease and tooth decay an open invitation to sabotage your smile.
Not Flossing? Look for Gum Disease Symptoms
Flossing is one of the best weapons against periodontal disease, which can eventually cause tooth loss and threats to your overall health if it is not treated. Gum disease symptoms may begin as red, puffy or bleeding gums. This is an indication that bacteria has become trapped beneath the gum line and needs to be removed before the infection destroys the surrounding tissue and bone. Bad breath, receding gums and loose teeth are indications that your neglected flossing habit has compromised your smile health and appearance.
No More Excuses
Considering the expansive menu of flossing options on the market today, there is simply no excuse not to perform the task. You can find flavored floss, waxed floss, unwaxed floss and a variety of floss holders to suit your personal taste. If you lack dexterity or coordination, consider a handheld water flosser, which is perfect for kids, special needs patients and aging adults. In short, the best floss for you is the one that you will actually use.
Establish a daily flossing habit and give your smile the attention it needs to be beautiful and healthy for years to come. For more tips on oral hygiene, contact Muccioli Dental in Johns Creek today.
Posted on behalf of Dr. Randy Muccioli, Muccioli Dental
Muccioli Dental - Johns Creek Dentist
6300 Hospital Pkwy, Suite 275
Johns Creek, Georgia 30097
Phone: (678) 389-9955