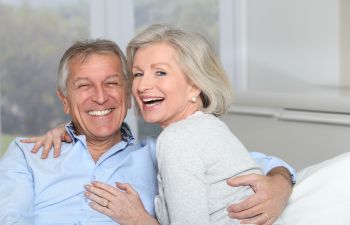 Dentistry covers a wide spectrum of services and treatments depending on the patient, especially when it comes to restorative dental care. At Muccioli Dental, we realize the importance of having a certified prosthodontist on staff ready to serve you with specialized training and care in this realm of dentistry, particularly when a full mouth reconstruction is needed. A full mouth reconstruction can include a number of dental treatments to rebuild and restore the function, health and aesthetics of multiple (or all) teeth. Here's why a prosthodontist is most equipped to handle this complex dental procedure.
What is a Prosthodontist?
A prosthodontist is a dental specialist who is skilled in the restoration and replacement of teeth. These dental specialists are dedicated to making smiles look beautiful and function the way they should. After completing four years of dental school, prosthodontists receive an additional three years of focused training. Prosthodontics is one of the nine dental specialties recognized by the America Dental Association (ADA). Prosthodontists are trained to deal with simple restorations as well as manage the most complex dental restorations of the whole mouth. They can provide full mouth rehabilitation after an injury or transform a smile from genetic facial deficits.
Is a Prosthodontist Right for You?
At Muccioli Dental, we understand the devastating impact that tooth damage or tooth loss can have. If your smile has suffered years or neglect or been involved in a traumatic injury, you may have damaged teeth that each need different repairs. Our prosthodontist can help you with procedures such as implants, dentures, crowns, bridges, veneers and more. While general dentists do provide these restorative services, a prosthodontist carries the extended education and training necessary to ensure you receive the best for your smile.
If you want expert tooth replacement, dental restorations or top quality full mouth reconstruction from a certified prosthodontist, call our Johns Creek dental practice today to schedule your consultation.
Posted on behalf of Dr. Randy Muccioli, Muccioli Dental
Muccioli Dental - Johns Creek Dentist
6300 Hospital Pkwy, Suite 275
Johns Creek, Georgia 30097
Phone: (678) 389-9955