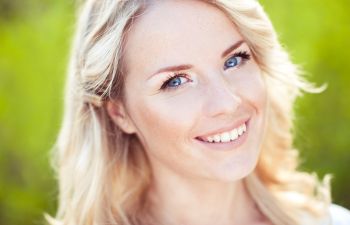 Just like your car or your house, your smile demands maintenance and repair from time to time. This can involve a getting a filling for a cavity, bonding a chipped tooth or even scheduling an appointment to whiten stained teeth. While these are treatments that are most often performed on separate occasions throughout your lifetime, there are some patients that need multiple dental repairs at one time. If your house suffered several types of structural damage as well as needed an updated look, you'd undergo a total remodel or overhaul. The same can be true for your smile, and this "overhaul" is called a full mouth rehabilitation.
What is a full mouth rehabilitation?
First and foremost, a full mouth rehabilitation is a highly-individualized treatment that needs to be performed by a highly skilled restoration dentist. The purpose of a full mouth rehabilitation (or full mouth reconstruction) is to optimize the health of the entire mouth as well as improve its appearance. This complex treatment plan can include procedures to address the teeth, the gums, and the bite.
Full mouth rehabilitation involves a combination of customized procedures, which may include any of the following cosmetic and restorative dentistry services:
Dental bridges
Dental crowns
Dental implants
Inlays or onlays
Porcelain veneers
Professional teeth whitening
Tooth-colored composite fillings
Are You a Candidate?
If you just have a couple missing teeth or a few cosmetic concerns within your smile, you probably don't qualify for a full mouth reconstruction. However, if you are in good general health but have multiple missing or badly damaged teeth, you can be an ideal candidate. Be prepared that you may need extensive work over multiple appointments. The result, however, is a fully functioning mouth, excellent oral health and confident smile that can last for decades.
Why Choose Muccioli Dental?
The success of a full mouth rehabilitation largely relies on the skill and artistry of the dentist. It is a carefully customized and planned treatment process that must be performed by a qualified and experienced restoration dentist. At Muccioli Dental, we have a talented Prosthodontic dentist who has received three years of additional advanced training in complex treatment planning, restorative dentistry and tooth replacement as well as extensive dental laboratory training. Our practice also features an on-site dental laboratory where many of our restorations are fabricated on-site. This facet of our practices allows our restorative dentists to have a hands-on role during the fabrication process as well as provide a more streamlined process for our patients during a full mouth reconstruction.
Ready to speak with Dr. Muccioli in Johns Creek? Call today to schedule your full mouth rehabilitation consult.
Posted on behalf of Dr. Randy Muccioli, Muccioli Dental
Muccioli Dental - Johns Creek Dentist
6300 Hospital Pkwy, Suite 275
Johns Creek, Georgia 30097
Phone: (678) 389-9955