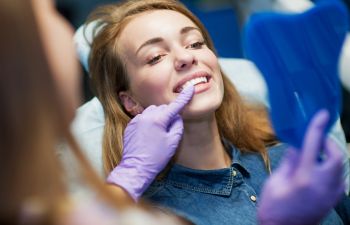 At Muccioli Dental, we place a premium on preventative actions. We recommend that everyone brush and floss at least twice daily, as well as focus on a nourishing diet that minimizes sugar and highly acidic foods. Keeping teeth clean is the best way to prevent plaque buildup that can lead to erosion and decay. To avoid dental caries (commonly called cavities), we encourage you to consider regular fluoride treatments to strengthen your teeth and prevent infection.
Without fluoride, your teeth are more vulnerable to decay-causing bacteria. A concentrated fluoride treatment safely builds up the tooth so that problematic bacteria cannot penetrate through the enamel and cause erosion and decay.  Enamel is comprised of minerals and is considered the strongest part of our bodies. When sugars and acidic foods are persistently ingested, the constant exposure can strip the enamel and leave the teeth susceptible to attacks from bacteria and decay. Fluoride works to strengthen teeth by replenishing minerals that are eroded from the enamel. Strong teeth are capable of standing firm against tooth decay.
Treatments are conducted here in our office at Muccioli Dental. A flavored foam, varnish or gel will be applied to dry teeth and left to dry completely. The fluoride unites with the enamel and is immediately available to help in the defense against dental decay. The entire treatment process takes just a few minutes and is completely painless. We suggest both children and adults include fluoride treatments as a crucial part of their oral healthcare.
The whole team at Muccioli Dental is here to help you build and protect a healthy smile that will last a lifetime. Call us today to determine if a fluoride treatment is the next best step for you.
Posted on behalf of Dr. Randy Muccioli, Muccioli Dental
Muccioli Dental - Johns Creek Dentist
6300 Hospital Pkwy, Suite 275
Johns Creek, Georgia 30097
Phone: (678) 389-9955