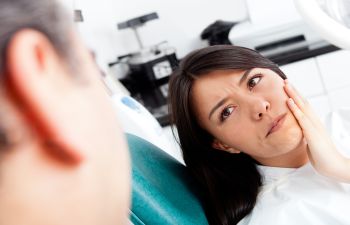 'Tis the season for drinking hot cocoa by the fire – unless you have sensitive teeth. If you suffer from teeth sensitivity, you're likely to avoid putting anything hot in your mouth. In fact, your reactive tooth pain may even cause you to dread going outside in the cold winter air. That's no way to spend your holiday season this year. While sensitive teeth are a common complaint, that doesn't mean you should ignore – or live with it.
First and foremost, you should get to the root of your tooth pain. The culprit may something harmless, but it could be that your teeth are trying to tell you that your oral health is in danger. Teeth typically become sensitive to hot and cold temperatures when the tooth nerves are more exposed to their outside environment. A healthy tooth has layers of protection around the tooth nerve to ensure this doesn't occur, including a strong outside enamel layer and inner dentin layer. However, when the outer layer wears away or becomes damaged, the dentin layer is the shield of defense. Unfortunately, dentin is not sealed tight like enamel. It has tiny pathways or holes that lead directly to the inner tooth nerves. Similarly, when the gums recede or shrink down on the base of the tooth, the root of the tooth is more exposed, which has less protection and is thus more sensitive.
Now that you know why a tooth would become sensitive, the next step is to determine what circumstances allowed these structural changes to occur. Teeth sensitivity can be caused by a wide range of factors, including the following:
• Gum recession
• Gum disease
• Decay or infection
• Enamel erosion (drinking sodas, etc)
• Tooth damage (chip, crack)
• Natural aging process (enamel thins as we get older)
Here's the good news. Sensitive teeth are almost always treatable. Depending on the cause, your remedy to a pain-free smile may be as simple as using a special toothpaste to protect your enamel or it can be more complex, such as periodontal therapy, dental bonding, a root canal or a dental crown. The most important thing is to let your dentist know about that tooth pain is causing you are avoiding hot cocoa, wincing with every bite of ice cream, or keeping your mouth closed when the cold air blows outside.
Whether it threatening your oral health or your quality of life, we can help your sensitive teeth at Muccioli Dental. Contact us today to schedule your appointment – we offer a full menu of services in restorative dentistry!
Posted on behalf of Dr. Randy Muccioli, Muccioli Dental
Muccioli Dental - Johns Creek Dentist
6300 Hospital Pkwy, Suite 275
Johns Creek, Georgia 30097
Phone: (678) 389-9955